EXPLORE SIMPLE WAYS TO TAKE YOUR BATHROOM TO THE NEXT LEVEL—AND GETTING A SERIOUS RETURN ON YOUR INVESTMENT
Picture this: You have a lovely home on the market. The kitchen's granite countertops and newly furnished cabinets open up the space, and the natural light brightens the living room's freshly laid wooden floors. You've made some good investments in these areas, but the bathrooms need some work. Tiles are dirty, faucets are leaky — what can you do?

​​​​​​​More importantly, how much are you willing to invest in your bathrooms to make your house more marketable and earn a profit at the same time? In this blog, we'll give you four bathroom renovations to create the porcelain throne your bathroom is destined to be, while maintaining the highest (ROI).
1. PAINT
The simplest and cheapest way to make your bathroom feel fresh is to paint. When contemplating what colors you should throw onto the walls, think cooler, more neutral tones. A soft gray or charcoal can bring a calmer mood to the space, which is ideal for a relaxing shower or bath in your private oasis.

​​​​​​​If you want more of a pop to your bathroom color scheme, try a light blue or light green shade. Both colors still evoke the same serene atmosphere, while adding character and providing more room to play with different themes and decor.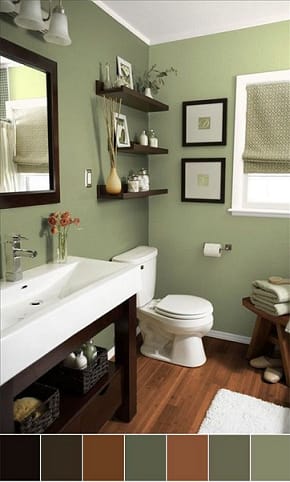 2. NEW FLOORS
Here's the thing about bathrooms. You're mostly going to be barefoot when you're in there, so it's essential you renovate the floors. In terms of marketability and trends, are the way to go. Not only do they look chic and enlarge the look of the space, they appear a lot cleaner than lighter floors and are easier to maintain. In short, paint the walls and install tile floors to stay in budget and in the now!
3. ACCESSORIZE
Now that the walls and floors are up to date, decide on a theme for your bathroom. It can evoke a soothing feeling or it can follow a literal theme, such as "under the sea." You want to give buyers an idea of what this bathroom can be. Show this room's potential!

​​​​​​​Accessorizing is an affordable renovation to enhance the bathroom's look. This could include introducing some greenery or hanging artwork on the walls. Add some elegant soap dispensers and matching hand towels to really tie the room together.
4. MODERNIZE YOUR UTILITIES
Consider the practicality of your utilities because it's definitely something buyers keep an eye out for. Some things to remember in terms of the toilet are cleanliness, the flush lever/button, and the height of the toilet.

​​​​​​​Replacing a small sink for a more spacious sink bowl can go a long way. Bigger sinks and longer faucets are in. Homeowners don't want to be leaning toward the back of the sink to reach the running water. And the same goes for the shower head. Higher, detachable, and multiple settings are extremely attractive. To go the extra mile, coordinate the faucets with doorknobs, and complement the floors and wall colors.

The most important thing to consider in renovating your bathroom is the overall theme of the space. If you use these tips and combine them into a cohesive look, you will have created a grand bathroom, one that is sure to entice homebuyers. Invest in theme!​​​​​​​
For more tips and tricks on home renovations, check out our
. If you're looking to buy or sell a piece of Lehigh Valley real estate,
contact us
 today. It would be our pleasure to guide you through the process.